Or…
…evolving evolution and that other one.
"We must question the story logic of having an all-knowing all-powerful God, who creates faulty Humans, and then blames them for his own mistakes." — Gene Roddenberry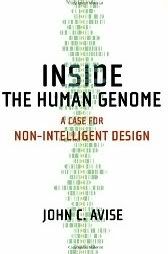 My latest read was
Inside the human genome: a case for non-intelligent design
by John C Avise.
There are the obvious flaws with the human body, the macroscopic ones; appendix, wisdom teeth, spine... Avise shows here that the pattern is the same on the genetic level. Our genome is full of errors, introns and parasitic DNA it only just works. Such an arrangement could only be the result of incremental evolution. You could accuse a designer of that of not knowing what he's doing.
The genome is complex, yes, and every single one of our genes can (and do) fail. The
OMIM - Online Mendelian Inheritance in Man
lists the malfunctions, which have been identified.
Here
is the entry for Friedriech's Ataxia. What kind of omnibenevolent god could inflict such suffering? Perfection and testing are incompatible; after all do you mistreat your dependants, children or animals just so they know who's boss?
I thought it was a complex book, assuming a background in genetics. It could have been padded out a bit. However, the biggest gripe I had was the Avise constantly felt the need to apologise or downplay the significance of these findings. It is pretty conclusive that the human genome came together from millennia of stopgaps forming over stopgaps, and not from design.
7/10
On a similar subject, I find it quite funny that in the race to explain life's origins, the evolution camp have moved onto resultant ideas, such as
whether we are still evolving
despite our technology, or
what to do about mutations?
and
Darwin's question of speciation
can be attempted, even answered. Conversely, Creationism is still back in the starting blocks looking for evidence. I don't know why, the answer to everything would be 'God did it'; it wouldn't solve anything, it wouldn't lead anywhere, we'd be no better off as a species. If life was like the game series 'Civilisation' then Creationism would sit alone and useless on the Technology-tree, yielding no advance, being a prerequisite for nothing, a dead-end.
The evidence and applications for evolutionary thought are everywhere. The struggle against antibiotic resistant bacteria in medicine, evolutionary construction algorithms such as in
this car simulation
, changes from industry such as the famous peppered moth and those arsenic worms. Need something more dramatic, creationists? No problem...How about a
lizard changing method of reproduction
?
An episode of Horizon from last month asked if the
decade since the sequencing of the human genome has shown progress
. Yes, although not enough. There was a mention of the X-SCID babies and predictions of potential progress toward treatment of disease. There were also investigations into solving
chronic pain
and
heart problems
using this and stem cells. Also
here
is a blog reporting the MNDA conference examining stem cell trials of neural cells.